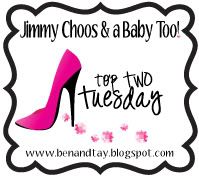 Top Two Favorite Movies...



The Wizard of OZ: I have loved this movie forever. I remember when I was a little girl, me and my mom would have movie nights and what this and eat popcorn.
2. Ferris Bueller's Day Off: I love it. Don't really know why but I could watch it over and over again.
....My best friend's sister's boyfriend's brother's girlfriend
heard from this guy who knows this kid who's going with
the girl who saw Ferris pass out at 31 Flavors last night.
I guess it's pretty serious