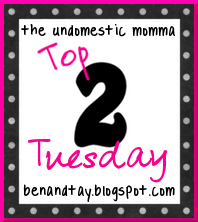 Todays topic for Top Two Tuesday's hosted by Taylor at The Undomestic Momma is Two Items You Can't Live Without..
so without futher adieu...
1. My Cell Phone... I have a Blackberry Curve and I use it for so much..I do a lot of work from emails and I get all of my emails on my phone. I also use it for other more important stuff such as Facebook, and Twitter. I would be completly lost without my phone.
2. My Straightner...I don't know what I would do without it. I use it pretty much every single day. Unless it is raining then I usually wear it curly because it will end up that way as soon as I step foot outside.