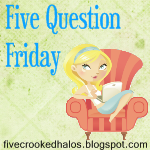 1. Who would you want to play you in a movie of your life?
Reese Witherspoon.
2. Did you ever go to summer camp?
No, I always wanted to but I didn't like being away from home at night. (I don't think I ever even spent thenight way from home until middle school. Sad I know.
3. What sends you running and screaming in the other direction?
Birds. I am deathly afraid of them.
4. What is something you do that drives your spouse nuts?
Gosh there are lots of things. One that I do a lot that drive them nuts is when I drink like a water and I suck the bottle and it makes the bottle cave in and make a popping sound.He hates that.
5. What is currently your favorite song?
I have a lot but I guess I would have to say either American Honey by Lady Antebellum or The House that Built Me by Miranda Lambert.