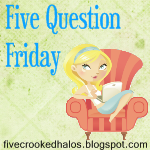 1. What words do you use on your blog/online that you don't use in real life?
I guess I am pretty much a what you see is what you get kind of person. I say everything that you see.
2. Do you still write checks?
Not too often.
3. Who was your favorite President and why?
Ronald Reagan. He was president when I was born and I have always found him interesting.
4. Are you a yeller?
I can be. I try not to yell very much tough.
5. Have you ever dumpster dived?
No. Well not really. Once I when I was in elementary school. I took my friends lunch tray to the trash for her and I accidently through away her bite plate and she didn't realize it till the end of the day so her dad, her, and me all dug through the trash to find it.