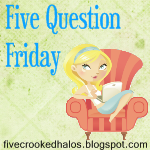 1. What was the first car you owned?
2003 Mitsubishi Eclipse. I love this car.
2. What song are you embarrassed to know the lyrics to?
There are a lot of songs that I am embarrassed to that I know the lyrics too.
3. Have you ever had stitches?
Yes. I had stitches after I had my c-section. I also had to have staples in my head when the car above was wrecked.
4. What was your first job?
After-school daycare teacher. I loved my job.
5. Who is your favorite Sesame Street character?
Sesame Street was one of my most favorite shows when I was little so I have a lot of favorite characters but my two favorites are; Cookie Monster and Slimey the worm.