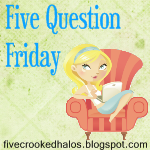 1. If you could, would you go back to high school?
If I could know that Dustin and Landon would still be apart of my life then yes I would go back to high school and enjoy it. When I was there all I wanted was it to be over.
2. If a genie appeared and granted you two wishes, what would they be? (And, no saying "more wishes".)
I would wish to have enough money to quit work and live modestly and I would wish for there to be no incurable disease.
3. What kids show do you secretly like?
There is not a show now that I secretly "like" but if they had a channel that played the shows that they played on Nickelodeon in the 80's like;

Rocko's

Modern Life, Wild and Crazy Kids, Hey Dude, Tiny Tunes, Doug, Double Dare, The Adventures of Pete and Pete, Clarissa Explains it All, Salute Your Shorts, and All That. I would permanently keep it on that channel. Those shows were the best.
4. What is your beverage of choice?
Coke
5. What is something that you would change about yourself (or are working to change in yourself)?
I am working on losing some weight and toning up my body.
PS: If you get a chance today vote for Landon you can click the link on my right side bar. He is in Gallery 6 and is Picture #6. Thanks so much. You can vote once a day and voting ends at midnight on Sunday.