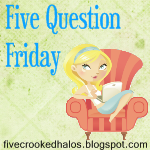 1. Do you know how to play a musical instrument?
Not really I tried to play the flute when I was in 7th grade but it didn't last very long.
2. What is your pet peeve while driving?
People who keep there blinkers on..
3. Would you rather have a housekeeper or unlimited spa services?
Housekeeper. I hate doing house work.
4. Is there a song that you hear that will take you back to the moment, like a junior high or high school dance?
There are a lot of songs that take me back to my high school years. I love when I hear one of them on the radio.
5. What song best represents your life right now?
"Love Like Crazy" Lee Brice