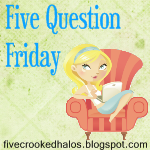 1. What is one thing you miss the most about childhood?
No bills. LOL. I miss summer nights playing outside for hours.
2. Are you still friends with your friends from high school?
Were not as close as I would like for us to be but I did hang out with a few of my old friends last weekend and had a blast.
3. Is there a catch phrase, cliche, or word that just drives you bonkers every time you hear it?
I hate Preggers. I don't know why I just do.
4. What is one thing that you think symbolizes America...besides "Old Glory"?
The Liberty Bell.
5. What are your 4th of July weekend plans?
We are leaving this afternoon to spend the weekend in Chattanooga with family and I can't wait!!