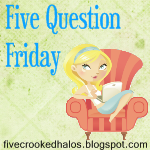 1. Do you have any nicknames and if so how did it come about?
Yes, a lot actually. When I was little a lady at the church that I went to started calling me Cornbread because she said that I laughed like somebody or a cartoon (or something like that) on tv whose name was Cornbread. My neice has been calling me Bambi ever since she learned how to talk.
2. What is your birth order amongst your siblings?
I am the baby. First was my brother then my sister then 19 years later me.
3. In a movie of your life, who would play your significant other?
Chris Daughtry. He is not a actor but my husband has been told a few times that he looks like him.
4. What is currently your favorite song?
Alejandro or Boys of Fall. Just depending on what kind of mood I am in.
5. Are you saving your money for anything right now? Big or small purchase?
No not really.