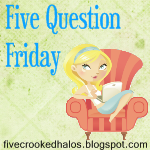 1. Can you drive a stick shift?
Nope...Well I have actually have never tried to drive a stick shift. I think that if I tried I would get the hang of it pretty quickly.
2. What are two foods you just can't eat?
Meatloaf..yuck and Pork chops...gross. Makes me kind of sick thinking about them.
3. Do you buy Girl Scout Cookies? What is your favorite kind?
I try not to buy them (not because I don't want to support the girl scouts but because I can't just buy one box.ha) My favorite kind is Thin Mint.
4. How do you pamper yourself?
I don't pamper myself to often but if I get the chance to I love to get a mani and pedi and go shopping.
5. What is your nickname and how did you get it?
I don't really have a nickname. My niece calls me Bambi (I am not really sure why but she has called me that since she was little) and my daddy calls me Bran and sweetie but that's about it.
I haven't been blogging that much because I computer has been messed up but it is fixed now.Yea!